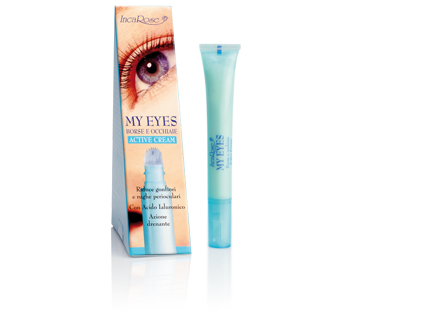 MY EYES ACTIVE CREAM
Inca Rose Active Cream is a silky cream enriched with Eyes Complex, an exclusive complex of active ingredients for the treatment of puffiness and bags under the eyes and minor wrinkles in the eye area. Its super-moisturizing formula prevents and attenuates puffiness under the eyes, while a special applicator made of soft silicone micro-massages to drain and eliminate swelling, increasing the cream's effectiveness.

Use: Apply cream in the evening to perfectly cleansed skin, spreading evenly around the eye area. Massage gently with the applicator provided, then tap with your fingers to ensure that the cream is completely absorbed.
Prevention of dark circles under the eyes
Funtion performed by Haloxyl®, a biotechnological polypeptide capable of reducing circles under the eyes by 29%. Also prevents accumulation of haemoglobin and the products of its degradation (bilrubin, biliverdin and iron), the primary cause of circles under the eyes.
Prevention of puffiness
The presence of Eyeliss® flavonoids and peptides in the association effectively helps prevent and fight puffiness. This active ingredient reduces the problem 34%, improving lymph drainage and extra cellular fluid circulation.
Crio-lifting action
The presence of skin Tightener®, an active ingredient containing brown algae, immediately produces a sensation of freshness on the skin with a firming and emollient action.
Dermatologically tested.
Does not contain perfume. Non-greasy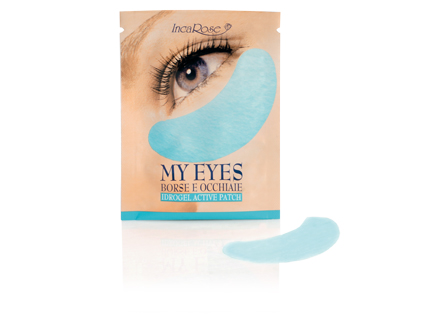 MY EYES ACTIVE PATCH
Inca Rose Idrogel Active Patch containing special Eyes Complex effectively helps reduce puffiness and bags under the eyes for a brighter, younger look. It also helps decongest and refresh the eye area.
Use:
First cleanse the skin. Remove clear protective film and apply patches to the area under the eyes. Press gently so that patches adhere and leave in place for 20 – 30 minutes. Then remove gently. Recommended for use twice a week. Once you have removed the pouches for the sealed bag, they must be used immediately. If you need to put them away again, fold the open side over repeatedly. Patches will dry out when exposed to the air and may be used once only. Keep in a cool, dry place. Keep away from heat, direct sunlight, flame and sparks. Do not expose to temperature above 35°C.
Dermatologically tested.
Does not contain perfume. Non-greasy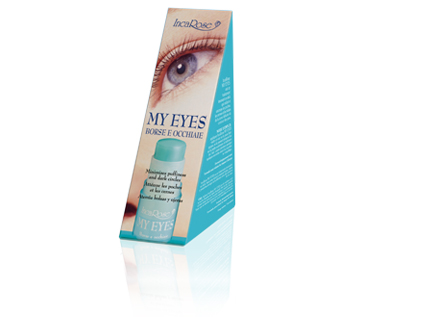 MY EYES STICK
Inca Rose My EYES is an innovative treatment in the form of a stick that is ideal for reducing and minimising puffiness, dark circles and fine lines in the delicate area surrounding the eye.
Use:
Apply My EYES morning and evening to perfectly cleansed skin, passing the stick several times over the upper and lower part of the eye area. Leave to absorb for a few seconds and then apply make-up.
Dermatologically tested.
Does not contain perfume. Non-greasy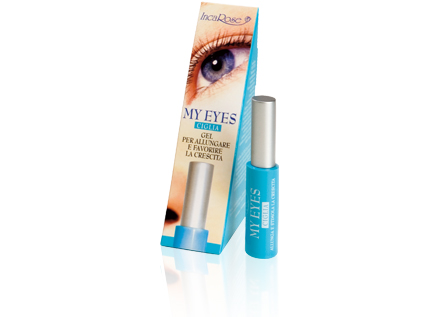 MY EYES EYELASHES
My Eyes Eyelashes is an innovating treatment with an active gel that lengthens, thickens and reinforces the eyelashes. Clinical studies have demonstrated that the nanolipids that are present in the exclusive formula together with tripeptide vitamins, allows the eyelashes to grow better with an increase of 17% and a maximum lengthening of 2,5 mm.
Use:
Apply the gel morning and evening from the root to the lash. Wait a little and proceed with make-up. Continue the treatment for 30 days.
Thereafter, apply the gel every second day and continue for as long as you wish.
Dermatologically tested.
Does not contain perfume. Non-greasy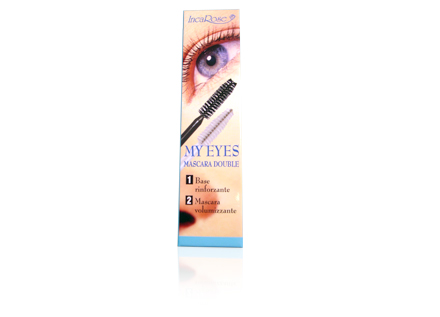 MY EYES DOUBLE MASCARA
Inca Rose MY EYES Mascara Double is a real beauty treatment, not only does it give you more beautiful lashes but it also nourishes and makes them stronger.
The creamy strengthening base coats your lashes perfectly, protecting, thickening and emphasizing their volume and length.
The volumising mascara covers the lashes with a rich-coloured, waterproof film.
The result is mascara that's doubly rich in volume and length, for a seductive look and for perfectly curved, protected lashes.
Dermatologically tested.
Does not contain perfume. Non-greasy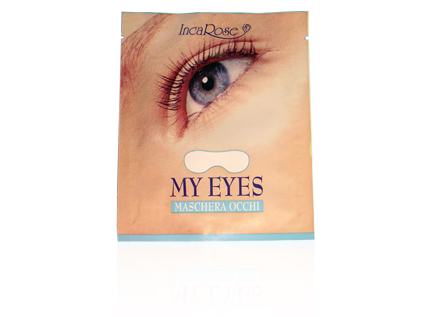 MY EYES DISPOSABLE EYES MASK
Soft and gentle disposable mask, fragrance free, soaked in distilled flower water, herbal extracts and protein derivates, ideal to relax, refresh and tone the area around the eyes and strengthen eyelashes. The carefully calibrated blend of distillations of flowers such as Camomile, cornflower and rose, together with extracts of Euphrasia, Cucumber and Sweet Clover, have a specific soothing action on the skin around eyes helping to attenuate swelling, shadows and redness.
The presence of a by-product of Carob seeds together with Allantoin and Sericin on the other hand give the skin a silky effect and help to prevent wrinkles with a smoothing and moisturising action.
The protein complex formed by Keratin and precious hydrolyzed Silk proteins serves to reinforce, nourish and thicken eyelashes.

Use: Apply the mask to perfectly clean skin smoothing it so that it adheres uniformly to the whole area around the eyes. Keep your eyes fully closed. Leave the mask in place for about 10 minutes, then remove and gently dab the area dry. For more effective and rapid action, especially when you eyelids are swollen, place the mask in the refrigerator to cool for several hours before use.
Dermatologically tested.
Does not contain perfume. Non-greasy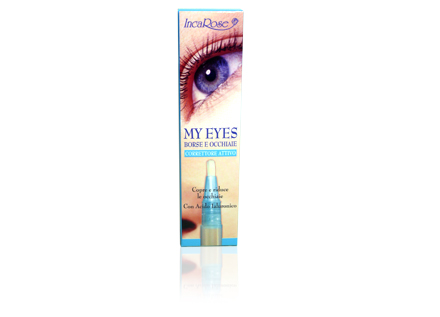 MY EYES ACTIVE CONCEALER
MY EYES Active Concealer provides perfect coverage of bags under the eyes and uneven colour on the skin. It contains exclusive moisturising, draining and normalizing Eyes Complex for progressive reduction of puffiness and bags under the eyes.
Dermatologically tested.
Does not contain perfume. Non-greasy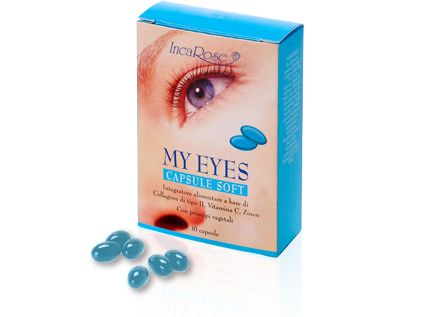 MY EYES CAPSULE SOFT
MyEyes Capsule soft is a food supplement with Type II Collagen, Vitamin C and zinc and vegetal actives that are useful to fill the food deficiency or the enhanced organic requirements of such nutrients.
Dermatologically tested.
Does not contain perfume. Non-greasy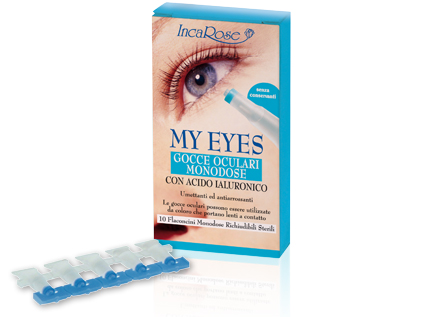 MY EYES DROPS SINGLE USE
My Eyes eye drops single use are made of a sterile solution based on Hyaluronic Acid, condensed water of camomile and fleur-de-lis. This particular formula moisturizes and refreshes tried and red eyes and helps to reduce the annoying sensation of dryness due to contact lenses, atmosphere, working in front of the computer too long, salt water, and pool water or any other situation where the eyes exposed to stressful moments.
Dermatologically tested.
Does not contain perfume. Non-greasy