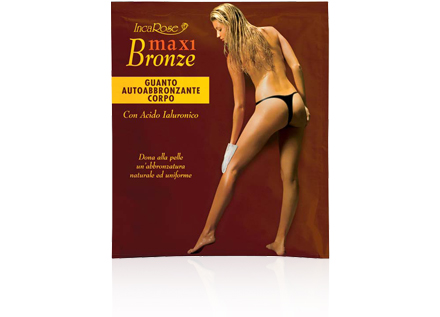 INCAROSE MAXI BRONZE GLOVE WITH HYALURONIC ACID
Disposable self-tanning glove for the body enriched with Hyaluronic Acid. Produces an even, natural tan two or three hours after application. May also be used after sun-bathing or UV sunlamps to moisturize the skin and produce a deeper, longer-lasting tan.
The self-tanning lotion is quickly absorbed and will not stain or leave the skin oily.
Does not contain sunscreen.
Use:
Pass the glove gently over the clean skin, using first one side and then, when it is dry, the other. Wash your hands after use, and wait ten minutes before applying any other cosmetics or putting on clothes. Repeat every three days to maintain a perfect tan.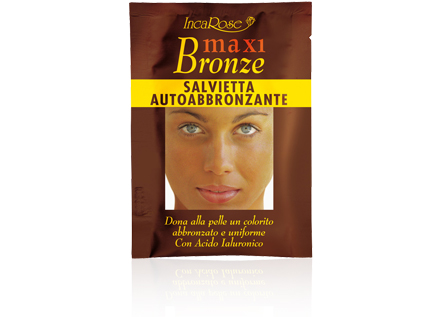 SOFT DISPOSABLE SELF TANNING WIPE
Gives the skin an even tanned shade two or three hours after application. Does not contain sunscreen.
Dihydroxyacetone (DHA):
A simple sugar produced by bacterial bioconversion of glycogen extracted from sugar beet seeds which, when it reacts with proteins in the skin, forms colored compounds which remain until the skin is naturally renewed.
Hyaluronic Acid (Sodium Hyaluronate):
A physiological constituent of the basic extra cellular substance of connective tissue. Its physical and chemical properties suit it for use in protective, moisturising, emollient and smoothing treatments. Helps keep the skin young, healthy and supple.
Use:
Wipe gently over the skin, avoiding contact with the eyes. Wash your hands after use and wait ten minutes before getting dressed. Repeat every three days to keep your tan looking perfect.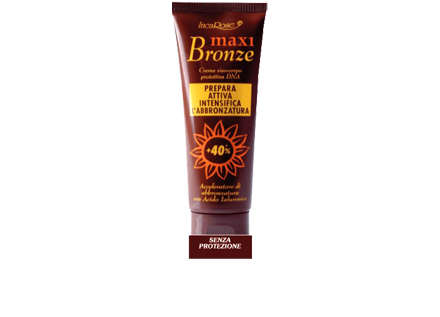 MAXI BRONZE FACE AND BODY CREAM WITHOUT SUN PROTECTION
Prepares, activates and intensifies tan up to 40% more.
Unipertan Veg 2002®:
International studies have demonstrated that Tyrosine/Riboflavin/Vegetable protein complex is the most effective substance for promoting the natural process of melanogenesis to increase the skinís melanin production while protecting against the damaging effects of sunlight on the skinís DNA. Helps prevent damage due to exposure to sunlight and create a deep, even, long-lasting tan more quickly.
Hyaluronic Acid (Sodium Hyaluronate):
Moisturising, anti-wrinkle, restorative action on the skin.
Shea butter: Nourishes the skin and leaves it supple.
Red algae Gel: Moisturizer. Facilitates application and absorption of cream.
Trace elements (Si, Mg, Ca, Fe, Zn): Linked with inactive yeast to perform a remineralizing, vitaminising, anit-oxidant action.
Use:
Apply cream several times a day prior to exposure to sunlight, distributing it evenly with a gentle massage. Use each day before, during and after exposure to sunlight.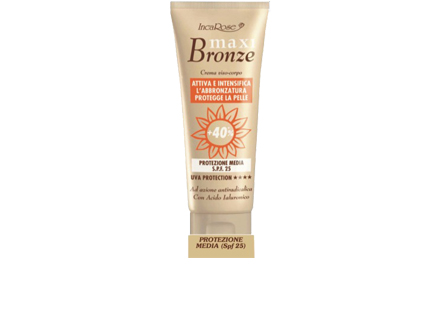 MAXI BRONZE FACE AND BODY CREAM WITH SPF 25
Activates and intensifies the tanning of the skin
Protection SPF 25

With Hyaluronic Acide

Hydro resistant cream of delicate texture for the protection and the prevention of the damaged skin, due to the too long exposure to the sun. Indeed, thanks to the association of solar filters UVB/UVA together with substances that accelerate tanning and protects the skin, it is possible to obtain faster and without risks, a beautiful uniform tan.